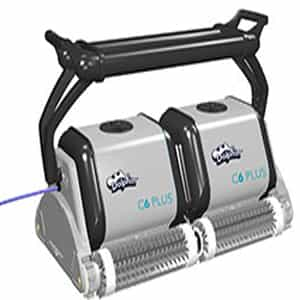 Cleans pool floor, cove, walls, and waterline.
Recommended for large commercial pools
The C6 Plus is a heavy-duty robust performer that does it all. It boasts double filtration and scrubbing power with adjustable pool parameters and choice of cycles.
Full Filter Indicator-- tells you it's time to clean the filter!
Delayed start feature allows debris to settle for easy removal.
Pro remote included for manual navigation and cycle selection
Incredibly efficient- cost less than 15 cents to clean the pool.
Patented swivel cable helps prevent tangling
Multiple cycle options-- 4,6,or 8 hours.
Large self-contained filter cartridge to collect dirt, debris, and even dust particles
Includes caddy for easy portability and storage
Self-Programmed for optimal pool scanning

Commitment to quality work and customer satisfaction guides our efforts to meet your needs.
Contact