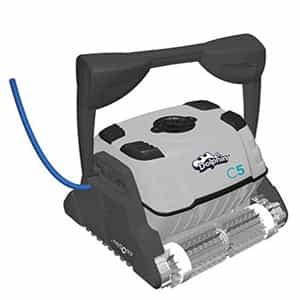 Cleans pool floor, cove, walls, and waterline.
Recommended for small to mid-size commercial pools
The Dolphin C5 is a professional, non-compromising solution to meet the demands of commercial pool cleaning. Its dual drive motors and split brush technology provide incredible maneuverability and coverage while its digital remote gives the user pinpoint navigation and control.
Full Filter Indicator-- tells you it's time to clean the filter!
Delayed start feature allows debris to settle for easy removal.
Pro remote included for manual navigation and cycle selection
Incredibly efficient- cost less than 15 cents to clean the pool.
Patented swivel cable helps prevent tangling
Multiple cycle options-- 4,6,or 8 hours.
Large self-contained filter cartridge to collect dirt, debris, and even dust particles
Includes caddy for easy portability and storage
Self-Programmed for optimal pool scanning

Commitment to quality work and customer satisfaction guides our efforts to meet your needs.
Contact