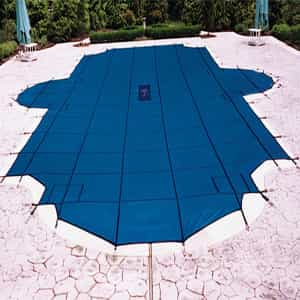 Secur&Clean Safety Cover is renowned for its strength, durability and ease of installation. It offers solid safety cover protection without the cover pump.
New and Improved vinyl coated fabric - for improved strength and tear resistance!
Keeps pool clean while protecting it from accidental intrusion by children, pets or stray animals.
Made from tough, long lasting vinyl laminated polyester fabric.
100% Sunlight Blockage - NO spring time algae growth.
Comes with patented "Kleen-Screen" drain. Drains water from surface - filtering out dirt, leaves and debris.

Commitment to quality work and customer satisfaction guides our efforts to meet your needs.
Contact