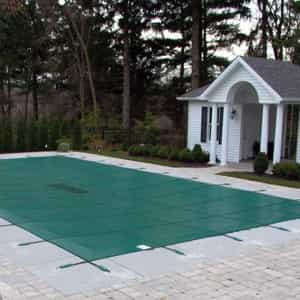 The solid safety cover that is 30% lighter then standard solid covers. All HyPerLite Safety Covers come standard with Commercial Grade Springs on Custom Covers!
Improved strength and puncture resistance - the ultimate in strength able to withstand puncturing from falling tree branches, deer hooves & stray animals.
100% Sunlight Blockage - NO spring time algae growth.
PVC coated polyester fabric is 30% lighter than standard solid covers.
Comes with patented "Kleen-Screen" drain (drains water from surface filtering out dirt, leaves and debris).
Also available with NEW & IMPROVED Sure-Flo™ full length drain! This better than ever drainage option allows for better water flow through the drain while still providing the ultimate in sun blockage.

Commitment to quality work and customer satisfaction guides our efforts to meet your needs.
Contact