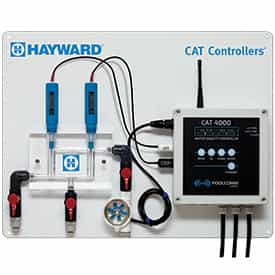 APS Specialty!
The CAT 4000® is a wireless commercial remote water quality controller. The controller provides picture-perfect water quality on-site and remote monitoring via the Internet or web-enabled mobile device from anywhere in the world. Using the CAT 4000 systems, you can easily log onto PoolComm to activate your wireless account and begin monitoring your water quality. You can view water quality data, print charts, analyze graphs, customize your settings and receive alarm notifications via email or SMS. The CAT 4000 is your complete solution for water quality management and remote monitoring.
Wireless link to the PoolComm site with extensive North American coverage and 24/7 monitoring
Incredibly simple to operate via simple menus and a bright alphanumeric display
Compatible with existing chemical feed equipment, so initial investment is minimized
Comes complete with CAT Professional Series pH and ORP sensors for unsurpassed performance
Optional Wi-Fi® communications protocol provides users free PoolComm access
NSF/ANSI Standard 50 Certified

Commitment to quality work and customer satisfaction guides our efforts to meet your needs.
Contact