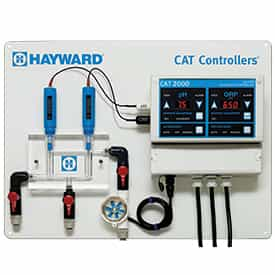 APS Specialty!
The CAT 2000® constantly monitors pH and sanitizer activity (chlorine, bromine, even salt systems) and automatically implements chemical feeding in proportion to demand for picture-perfect water quality at all times.
Digital, microprocessor-based design with flash technology
Advanced Control Features including proportional feed
Weatherproof membrane switch front panel interface
All factory settings are permanently stored in memory
Compatible with all types of chemical feed equipment
Dry-contact outputs provided for salt-chlorine systems
NSF/ANSI Standard 50 Certified

Commitment to quality work and customer satisfaction guides our efforts to meet your needs.
Contact