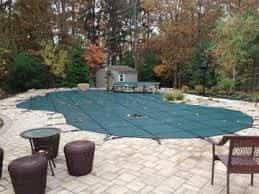 Allegheny Pool Services Co. would like to thank everyone for a great summer! The warm summer days this season provided some great days for enjoying the outdoors poolside. Now that fall rapidly approaches, many of us look forward to changing leaves, pumpkin patches, and good apples. One the exciting things about living in the Western Pennsylvania is that we have the opportunity to enjoy four distinct seasons. With the autumn almost here, you may want to forget about the pool and rush into fall activities. Allegheny Pool Services Co. appreciates this enthusiasm but encourages you not to forget the importance of properly wintering your outdoor pool or spa.
Following the fall comes winter, and if you fail to properly winterize your pool trouble will await you in the spring. Allegheny Pool Services defines properly wintering a pool as a program to prevent damage to your pool shell, plumbing, and mechanical equipment. The exact procedure will vary slightly from pool to pool but the guiding principle of preventing damage remains constant.
If this post piqued your interest, please feel free to contact us to discuss specifics. Allegheny Pool Services Co. offers winterization as a service. If you feel comfortable taking on this task yourself we are also able to supply you with materials. One of the most important components to a winterization includes a good winter safety cover. Allegheny Pool Services Co. provides winter safety covers in all sizes and in four unique materials. More information about winterizing and winter safety covers is available at our homepage.
Thanks for reading,
Tim