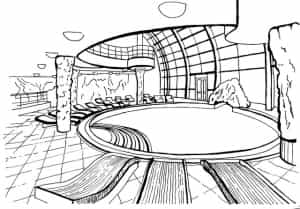 As Pittsburgh enters the second week of October, we face cooler temperatures. Fortunately the avid swimmer can still enjoy his or her favorite hobby. Indoor pools allow for the committed swimmer to benefit from aquatic recreation year round. In a similar fashion this principle holds true for Allegheny Pool Services Co. Regardless of the time of the year we remain committed to providing the Pittsburgh area with safe, clean, and fun pools. We offer pittsburgh pool services to both indoor and outdoor facilities. With the exception of the polar bear club, most swimmers will use indoor pools for the next few months. Since most swimming will occur indoors during the fall and the winter, an understanding of proper air circulation at indoor facilities will help you enjoy or provide the best indoor swimming experience possible.
To ensure swimmer comfort, control energy consumption, and provide proper building protection, focus on indoor air circulation. Designs, renovations, and operation of indoor air circulation should consider the following:
Humidity Control: Indoor pools and spas require maintaining relative humidity levels between 40% and 60%. For swimmers, 50% to 60% offers the most comfort. Fluctuations outside this range are detrimental. Low relative humidity will cause user discomfort because of the cooling effect on a swimmer emerging from the pool. Due to the higher rate of evaporation at lower humidities the heating requirements of the pool will also become higher than necessary. On the other side of the spectrum, high relative humidity levels are destructive to building materials. Mold and mildew caused by high humidity can attack wall, floor, and ceiling surfaces.

Ventilation: The American Society of Heating, Refrigerating and Air-Conditioning Engineers (ASHRAE), establishes standards for acceptable air quality at indoor swimming pools. The organization's ANSI/ASHRAE Standard 62.1, 2007 Ventilation for Acceptable Indoor Air Quality, requires 0.48 cfm (cubic feet per minute) of outdoor air per square foot of pool deck. Since most pools use chlorine, exhaust air will contain chloramines. This air should be vented outdoors and not into bathrooms, dressing rooms, or showers. Additionally pool areas should have a slight negative pressure to prevent air from escaping to other areas of the building.
The brief descriptions of proper air circulation above provide a general introduction to indoor pool air quality and circulation. For a thorough discussion of indoor air quality, Allegheny Pool Services Co., recommends contacting a Heating Ventilation and Air Conditioning specialist. While Allegheny Pool Services Co. does not offer HVAC services, we do maintain the circulation, filtration, and chemical feed systems of indoor pools and spas. Additionally we strive to stay abreast of indoor air requirements to work in tandem with the party responsible for an indoor pool's air quality. If you have any questions or comments about the topics discussed in this post please contact us. More information can be found at our homepage.
Thanks for reading,
Tim Johnson
Sources: Pool and Spa Operator Handbook, pages 158-157